When you mix experience with innovation, something magical appears! Isn't it?
When you mix experience with innovation, something magical appears! Isn't it?
What should an ideal day look like into one's life?
Experience 1: Envisioning PRAYOG
Prayog emerged due to the needs raised by children and ever since we have tried to figure out their needs time to time and also ensure that there is no gap in the process.In this journey, local youths joined us as we moved ahead and we have four vibrant persons engaged with us: Vijay, Ramesh, Priyanka and Binit. There are days when none of them agree on the suggestions of the other, there are days when they fight for who is right and how things should be done. But never have we faced a crisis of under performance or unwillingness to deliver the job. They all own the works and achievements of Prayog! They are fond to work for Prayog, work for children and fulfilling their dreams.
Around six months ago, Ramesh and Priyanka literally wept when asked about their experience of visiting Akhand Jyoti Eye Hospital. They said in regret, "we are a bit old now, why did something like Akhand Jyoti did not exist when we were that age". It is with a feeling to bless and willingness to contribute towards a wonderful future of all the children that Ramesh and Priyanka are committed towards Prayog.
November 28th and 29th: All the children were aware that Mishra Sir (they refer to Prof. Rajeshwar Mishra) is coming and they were full of memories of his last visit! Alas, what a way Sir interacts and it thrills everyone! This time it was even more special as Madam (his wife) was also accompanying him to meet the children. I am sure Sir might have shared some stories about children and their excitement which would have motivated Madam to visit here.
After a brief meeting with children on Day 1 and giving them a task, all the four staffs and the local mentor moved to Kushinagar to think on the direction for Prayog. Kushinagar is the place where Buddha attained nirvana. 
Priyanka, Vijay, Ramesh and Binit prepared the road map for Prayog and it was very surprising in the way they all moved towards creating Prayog as an institution for learning and where the focus should be on basic education!
How effectively should the community be engaged in any NGO's works? Frank enough, I have got the chance to observe a number of programs and NGOs which has objectives of community involvement/participation etc but a high majority of them actually stand below par when the community involvement is concerned. Most of these are program based and that limits the scope in itself to instill a passion amongst the community. Prof. Mishra helped us reach a level where people have directly supported us and are willing to expand this network!
Experience 2: Ensuring a proper direction to Youth
August 2015: Vikas Kumar was a 20 year guy living in Semra bazar in Gopalganj district of Bihar. He was one amongst the many youths who was still exploring what he could do in his life. After passing Class 10th few years ago, he had enrolled in an Intermediate college and just as other youths, he knew that he has to appear only for the exams. And why not? When the inter college is 24 kms from his home, how can he bear the cost of daily travel that would be around Rs. 60. And many youths of his age prefer moving out to the west, probably Delhi, Haryana, Gujarat or Maharashtra.
September 2015:ICICI Academy for Skills appears somehow in the neighbouring village, Bania chapar, where PRAYOG's library set up has been functioning since 2013. A friend of Vikas had informed him about something related to youth's future is to be organized on September 10th. Vikas participated in the event and was amongst the 25 youths who were identified for a three months residential skill training at the academy in Patna. He was not sure in the beginning as so many fancy stuffs were mentioned and that too everything was to be taken care at the academy, absolutely free of cost.
November 2015: Here is Vikas Kumar!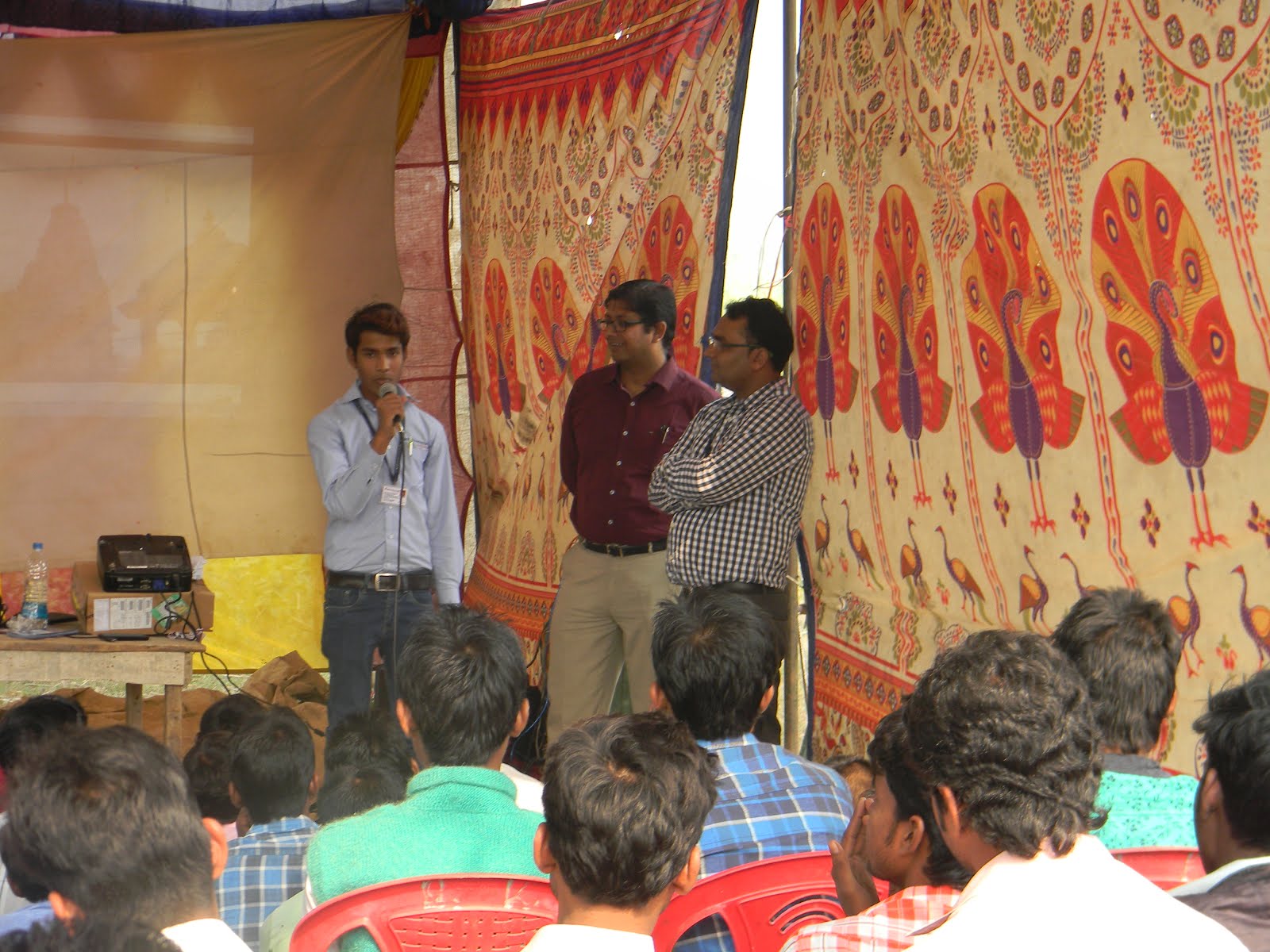 Vikas is oozing with confidence and sharing his experiences, future goals and the fun he is having at the academy! Vikas underwent a training in electrical appliances for three months and is going to passout on December 12th. He is already placed with a solar manufacturing unit with a monthly salary of Rs.9000.
And so are all the 25 youths who went to learn something. All thanks to the ICICI Academy. Together, these youths would be earning Rs 200000 per month!
This is what PRAYOG is striving for. We plan to engage 100% unemployed youths and who have dropped out of studies to be settled down in life with decent livelihood opportunities and live a life with dignity!
Such was the impact of this association with ICICI Academy for Skills that girls have shown prompt interest to be a part of this and move ahead in life.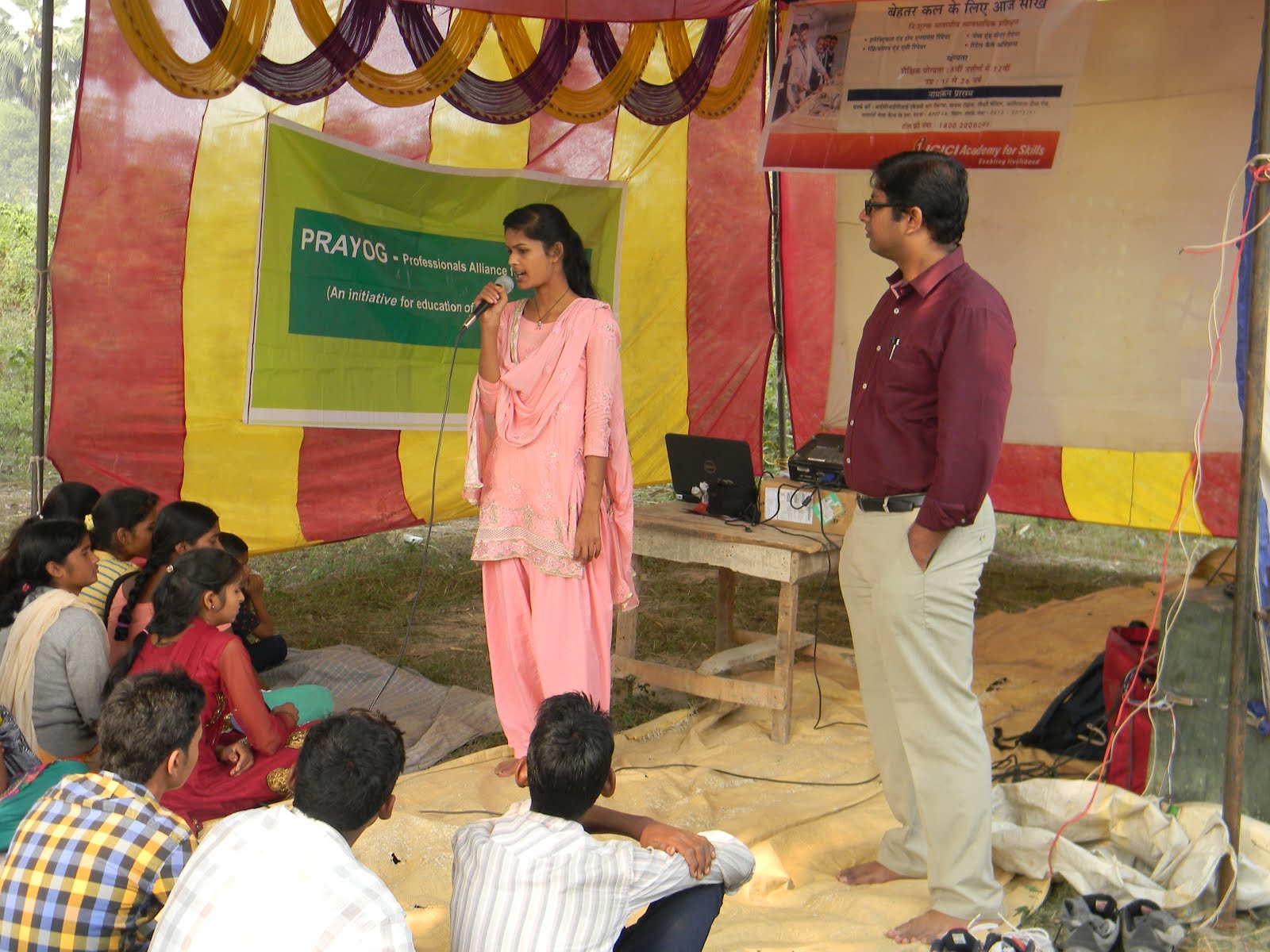 Some pics of engagement with youth of Kuchaikote and Panchdeori blocks, Gopalganj
A good day should be joyful and full of works that give you pleasure. November 28th and 29th were such days which enthralled the purpose of life. Thanks again to the spirit of local youth, our four staff and local mentor. Thanks to the energetic Mishra Sir and Mam to guide us in our journey and a big thanks to Sunil Sinha and Chandan from ICICI Academy for Skills, Patna to visit us with concern for the local youth. Thank you Manish Bhardwaj and Mritunjay Tiwary for being an inspiration and for what you have been doing in rural Bihar.
A big thanks to all the donors who have faith on PRAYOG and keep supporting us. It is because of you that we are able to deliver the changes that we all wish to see in India and its village set up!