We Hit Consecutive Centuries On Debut Of 'Night Classes' : Numbers Do Matter!
We Hit Consecutive Centuries On Debut Of 'Night Classes' : Numbers Do Matter!
PRAYOG has been making efforts to engage children in all activities with a passion. Last month, we announced for 2 sessions of night classes whereby they would be getting some modules on computer education and English grammar. They were pretty excited but we never expected that more than 100 children would attend these sessions daily and that too coming from far away villages. We ensured power supply through a generator, the area is otherwise completely in dark.
Children's energy level is never ending. These session were conducted on Saturday – Sunday. The idea is to top – up their vision and show them something new, teach them in a different way from their formal education system. The day begins at 10 am and sessions continue from 10 am – 1pm, 3 pm – 5 pm and 6 pm – 8:30 pm. Participation of girls from all sections of the society was an encouraging fact. But, we are concerned for the girls security while their way back to home. Some 50 girls were present on both the days and night classes. There was an announcement that girls may return to home after 8 pm and to our shock, the unanimous reply was  "are we less than boys in any sense " !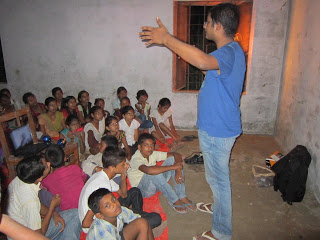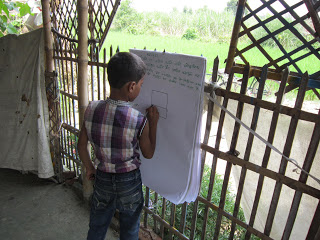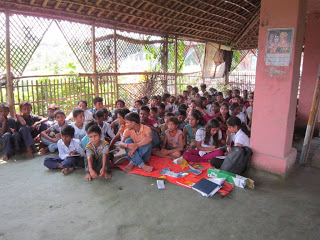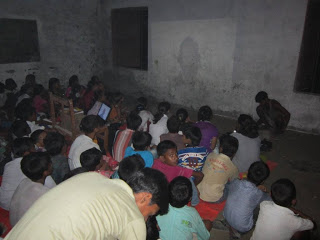 PRAYOG is thankful to people sitting off in distant places of world, be it Washington DC, Germany or Mumbai but are contributing to the cause by their sheer motivation. Anupap Anand, one of the founding members, who is a Ph.D scholar at University of Maryland, Washington DC has sent the handheld projector device from US. His video that described his research work and his vision for PRAYOG brought in smiles for over hundred students. He also arranged for a virtual tour of his University and then way back to Gopalganj in Bihar, students were curious!
Abhishek, who is also a founding member and works with Castrol India private limited in Mumbai. His video was motivating for the children to develop a habit of book reading.
We are very thankful to Mr. Pradeep Prasad, a software engineer who works in Germany these days for a wonderful 51 minutes video on English grammar. Even teachers present there appreciated his efforts and of-course his teaching skills and commitment.
This is the power of e-education. A video has been prepared where students have raised their queries to the presenters, this would be sent to them and we expect their replies in next months night classes.
For individuals like Mr. Pradeep, we are thriving!